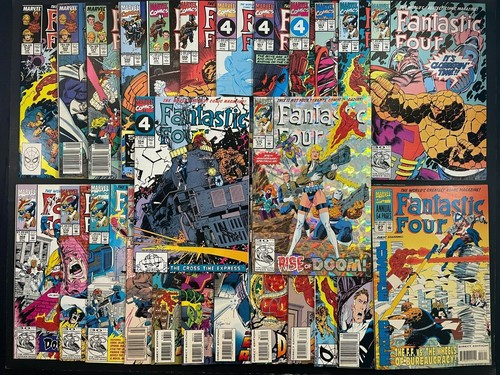 Price: 7495 USD
Comic Details
Fantastic Four comic lot (26 issues!) KEYS 354 357 359 363 Simonson DeFalco TVA




Note: To redeem
coupon
(if active/applicable) you
MUST
place all desired items in the same eBay cart. By placing qualifying items in your cart, the coupon will
automatically
be applied by eBay before checkout. Coupons cannot be combined with best or sent offers.
Description
Fantastic Four 315 322 327 350 351 354-357 359 363-365 368 370 372 374 375 379 382 384 385 393 + Annuals 22 23 27
Key Issues
Fantastic Four Annual 22 –
Fantastic Four Annual 27 –
Fantastic Four 354 –
1st appearance of Casey, a train conductor for the TVA
Alicia Masters revealed to be a Skrull named Lyja the Lazerfist
1st appearance of Devos the Devastator, an alien vigilante
1st appearance of Occulus
Condition
Please see the pictures provided. I do not assign my own grades.
Any major defects (missing pages, large tears, etc.) would be mentioned if not clearly present in photos.
Questions? Feel free to message me!
Shipping
These comics are double bagged and boarded.
Shipped securely via a USPS Priority Mail service.
I ALWAYS ship safely, utilizing Gemini comic mailers, rigid magazine mailers, extra cardboard slabs and/or bubble wrap.
U.S. only, please!
Thank you for looking!!! Check out my store Bat-Cat Comics for even more great deals!